A Twenty-Two Year Assessment of the Nexuses Between Jet Injectors and Blood-Borne Pathogens Via Veteran Affairs Court Cases
In an August 2004 Internet post titled, Hepatitis C: Military-Related Blood Exposures, Risk Factors, VA Care, the Department of Veterans Affairs purported, "Although there have been no case reports of hepatitis C being transmitted by a jet gun injection, it is biologically plausible."
To date the biologically plausible, or rather theoretically possible yet improbable response, has been the VA's stance on this issue.
However, in spite of the VA's longstanding statement, a department within the agency is finding otherwise. Within recent years the Board of Veterans Appeals (BVA), an informal court within the VA, has received an influx of jet injector cases. Veterans, lacking the more typical risk factors, are recognizing the jet injector as the only causality for his and her hepatitis C. The court's recognition of these nexuses in a substantial number of cases debunks the possibility as being "only theoretical" and instead establishes the possibility as not only plausible but probable.
A review of case law from 1992 to 2015 found the Board of Veterans' Appeals had ruled upon 1,423 cases that cited the jet injector. From these cases 113 were granted, 712 were denied, 536 were remanded back to the VA Regional Office to seek another medical opinion, and 62 cases were granted but needed to be excluded from the rest of the data because either the judicial rendering did not mention the jet injector, the judicial rendering specifically excluded the jet injector, or the veteran's symptoms of hepatitis C were documented inservice and therefore service-connection was automatically granted and an etiological cause was unneeded.
The graph below demonstrates trends overtime concerning jet injector cases that were decided by Veteran Law Judges.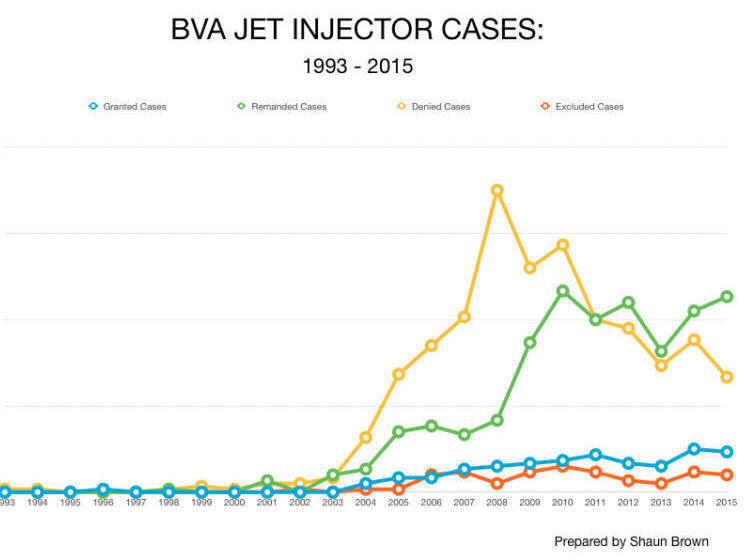 <![if !vml]>
<![endif]>
From 2003 to 2008 there was a surge of jet injector decisions, most of which were denied. Despite the fact that these cases were denied, a majority of these cases should have been granted as the Veterans Law Judge failed to appropriately recognize the jet injector as a risk factor and failed to appropriately apply the Benefit of Doubt Law (38 U.S.C.S. § 5107(b)) or the analogous Reasonable Doubt Law (38 C.F.R. § 3.102). When the positive and negative evidence of a case is in equipoise (equal to each other), the benefit of the doubt always goes to the veteran. The veteran prevails and the case is granted. (More will be discussed on this in a future blog post).
Last year (2015) was the lowest number of denied BVA cases in ten years.
Since 2008 there has been a surge in remanded decisions. Meaning the Veteran Law Judges are remanding the case, or rather sending the case back, to the VA Regional Office (VARO), with specific instructions mandated by the BVA court. Usually remanded cases sent back request the VARO to seek another medical evaluation of the veterans' claim file.
Most remarkably, granted cases have been on a slow but gradual incline.
The 113 cases that were granted can be further broken-down into separate categories. Out of these:
61 cases explicitly rendered that the jet injector was the etiological cause of veterans' hepatitis C infection. Meaning in each case medical professionals familiar with the veteran's case and a Veterans Law Judge both found the jet injector to be the veteran's source of

infection.These

cases can be further broken-down:

In 29 of these 61 cases, the jet injector was the veterans only risk factor for hepatitis C. This is worth repeating, in these 29 cases the only risk the veteran ever experienced was the jet injector. Herein are 29 documented cases which substantiate the nexus between hepatitis C and military jet injector vaccinations.
In 32 of these 61 cases, veterans' military jet injections were found to be a greater risk factor than other inservice and/or non-service risk factors purported. Meaning these other risk factors were deemed unlikely as the source of veterans' hepatitis C infection when compared to these veterans' military jet injection experiences.

One case explicitly rendered that the jet injector was the etiological cause of the veteran's hepatitis B infection.

49 cases rendered that veterans' military exposures, which included jet injector inoculations, were the etiological cause of the veterans' hepatitis C infection. Meaning the renderings in these cases found multiple inservice risk factors were the probable source of veterans' hepatitis C. Veterans need only prove that their inservice risk factors of acquiring hepatitis C were equal to or greater than any non-service risk factors. Therefore, determining amongst multiple inservice risk factors as the cause of hepatitis C is unnecessary.
One case rendered that the veteran's military exposure which included jet injector inoculations was the etiological cause of the veteran's hepatitis B infection; and
One case found the jet injector caused an adverse condition in a veteran's upper arm.
Here are the BVA citations to all granted jet injector cases
Therefore the statement, "Although there have been no case reports of hepatitis C being transmitted by a jet gun injection" is an outright lie. Numerous cases have cited this nexus. These cases were not granted out of sympathy. Oh contrar! Let's look at the weighing of evidence.
The nexus between military jet injections and veterans' hepatitis C was cited explicitly in 61 cases. Amongst these cases the evidence was weighed in—
57 cases as "at least as likely or not," or rather at least a 50 percent likelihood. (Listing of these 58 Citations here At Least as Likely as Not– Jet injector Appeals Granted).
2 cases as "more likely than not," or rather a greater than 50 percent likelihood. (see cases Citation # 0945788 and Citation # 1525003).
2 cases as "due to," or rather 100 percent related. (see cases Citation # 0531165 and Citation # 0724695).
The number of cases backlogged and awaiting decisions remains unknown. There are jet injector/hepatitis C cases that have been granted within the VA Regional Office level, however these findings are not published and therefore unknown.
Copyright Notice
© Shaun Brown and Jet Infectors, 2016. Unauthorized use and/or duplication of this material without express and written permission from this site's author and/or owner is strictly prohibited. Excerpts and links may be used, provided that full and clear credit is given to Shaun Brown and Jet Infectors with appropriate and specific direction to the original content.