FDA Enforcement Report Snap shot as of 9/18/08
The FDA Enforcement Report is published weekly by the Food and Drug Administration, U.S. Public Health Service, Department of Health and Human Services. It contains information on actions taken in connection with agency regulatory activities. http://www.fda.gov/bbs/topics/ENFORCE/ENF00058.html
Product: Vernitron Majestic Table Top Sterilizers, Models 8080,
V8000, or R816 a table top steam autoclave with an
8" x 8" x 16" chamber. Recall #Z-738/740-0.

Code:
All of the above model numbers manufactured prior to 1985. (note: these autoclaves were used to sterilize the Ped-o-Jet Jetguns used by the military. Sterilization could not be guaranteed.)

Manufacturer:
Vernitron Better Built Corporation (OOB), Carlstadt, New Jersey.
Recalled by:
Vernitron Medical Products, also known as Ped-O-Jet International, Dayton, New Jersey, by letter
February 26, 1990. Firm-initiated field correction ongoing.

Distribution:
Nationwide, Canada, Korea.

Quantity:
Firm estimates fewer than 100 uncorrected units remain on market.

Reason:
The locking hub may detach from the unit at high pressure as a projectile and may also cause a compromise of sterility of the contents of the sterilizer.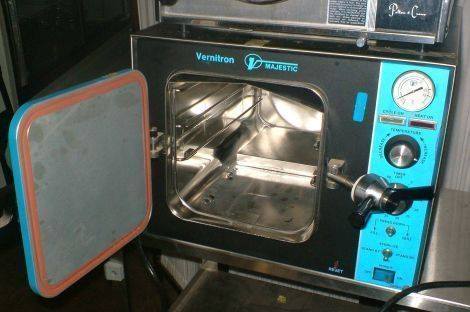 The following article was originally published in Preventing Infection in Ambulatory Care, the quarterly e-publication from the Association for Professionals in Infection Control and Epidemiology (APIC). To learn more about receiving this resource and joining APIC, visit www.apic.org/ambulatorynewsletter. To learn more about APIC, visit www.apic.org.
The sterilization of instruments and supplies in an outpatient setting is often accomplished using a desktop autoclave. Re­gardless of the size and scope, basic principles of sterilization must be met to ensure patient safety. It is crucial to remember that it is against federal law to reuse or reprocess instruments and items labeled "Single Patient Use." These items may be sent to a third party reprocessor licensed by the Food and Drug Administration to reprocess specific instruments and medical devices.
Older autoclaves without alarm features and with only a tem­perature and pressure gauge MUST be watched to ensure that correct temperature and pressure are reached and maintained during the entire cycle. Because of this, older autoclaves are not generally a good choice and should be replaced with a new­er product; preferably one that prints out a load report.
Flow of Instruments for Processing
All instrument processing areas must be set up to provide unidi­rectional flow of instruments from soiled receiving to processed packages, sets and trays ready for use. Flow should be in one direction with no crossovers or places where there could be a mix-up of clean and dirty items.
Physical Cleaning
Once received, soiled instruments are rinsed and/or wiped to remove gross debris, then soaked or washed in an enzymatic detergent and scrubbed to remove all debris. Instruments may be soaked until a staff member is available to begin to process them. Scrubbing to remove all traces of debris is critical, with special attention to grooves, joints, ridges, etc., that can trap blood, tissue or the like. Brushes used for this should be washed and disinfected periodically, and replaced when no longer functional.
Packaging
Instruments may be packaged individually in peel packs or as small sets in larger peel packs such as a staple remover set, or in small wrapped packs or trays. The pack must be appropriate for the type of autoclave: steam or gas.
Peel packs allow visualization of the item through the clear panel and can be turned out onto a sterile field or opened and held for someone with sterile gloves to take and use. The peel pack should be the cor­rect size for the instrument in order to prevent tearing of the package. Tip guards, cotton or gauze should be used to protect sharp points from penetrating the packaging. Hinged instruments should be placed in the pack in the open position to ensure penetration of steam. Staff must be aware of how to position instruments in the packs, which will depend on whether the item will be opened and held for a person with sterile gloves to remove from the package, or be turned out onto a sterile field.
Wrapped packs are usually used for sets of instruments, such as an incision and drainage tray. Reusable textile or disposable, non-woven materials may be used for wrapping. There is a limit to the size and density of packs and trays to ensure steam pen­etration. Autoclave tape is often used to close the packs.
Process Indicators
There are several types of process indicators that can be used to help assure sterility of processed items. Many peel packs come with a color-change indicator right in the material itself; some have indicators for both steam and gas processing. When exposed to the autoclave, the package color changes. This indicates that the package has been through the autoclave, but does not assure sterility. Autoclave tape is another color-change indicator.
Internal chemical indicators monitor one or two parameters, such as temperature and time, and are placed inside the packs or trays and will indicate steam penetrated to the center of the pack for the right amount of time. If the color change does not occur, do not use the item.
Chemical integrators are also placed deep inside packs and trays and demonstrate that three specific parameters of time, tem­perature, and the presence of saturated steam have been met. If these devices are not visible, persons opening packs must check to ensure the pack or tray is safe to use. Do not use if the inte­grator has not changed appropriately. Desktop sterilizers should have a printout confirming that the proper time, temperature and pressure were achieved. These should be filed and should in­clude the day's date and load number.
The "gold standard" for monitoring steam ster­ilizers is the biological indicator, or BI, which is a device that contains a viable population of microorganisms, usually bacterial spores, that are resistant to the type/method of sterilization being monitored. These come in different for­mats, including spore strips (often sent out for processing) and capsules that are processed deep in a load, incubated, and read in the clinic or office. This definitively shows that the condi­tions required for sterilization have occurred. BIs should be run at least weekly, or with each load if the autoclave is used less than once a week. Some users run a BI daily.
Sterilizer Failures
What happens if the BI is not sterilized dur­ing processing? All the instruments that were processed since the last "good" BI must be identified and pulled, unpackaged and reprocessed. To identify implicated items, packages must be labeled. Many clinics simply note the date processed and the load number for that day on each package. Clinics must have a written policy and procedure of how to recall and reprocess instruments, as well as notification of pro­viders whose patients were treated with these instruments. Some providers will notify patients while others will watch the wound for evidence of infection or prescribe additional antibiotics.
The sterilizer should not be used again until the problem has been identified and corrected, and several test loads have been success­fully processed with "good" BI results.
Sterilizer Maintenance
As with any mechanical equipment, autoclaves need preventive and periodic maintenance, based on the manufacturer's recom­mendations. This must be performed by knowledgeable technicians at specified intervals, and maintenance should be documented and kept on file. There is daily and weekly cleaning that must be done. The racks inside must be removed and the interior cleaned each week. Distilled water reservoirs must be drained and emptied, then refilled.
Keeping Packages and Trays Sterile – Proper Storage
Once the right processes are in place and instruments are being cor­rectly managed, it is important to ensure that stored packs and trays remain sterile. How long is a pack or tray "good" for? 30 days? 60 days? Longer? Shorter? Sterility of an item is not related to TIME, but to EVENTS that the pack undergoes. Therefore, proper storage and rota­tion of instruments is essential and should include the following:
Store in closed cabinets away from sources of heat and moisture.
Separate types of instruments using washable bins or containers.
Do not stack heavy sets on top of each other.
NEVER put rubber bands around sterile supply packages. The wrapper edges may become nicked or torn and render the item contaminated. Use bins or containers.
Be careful not to overstuff drawers if used for storage. The opening and closing of the drawer and/or hands rifling through packages can cause tiny holes or tears.
Any package that falls on the floor is contaminated and is not to be used.
Any package wrapper with evidence of tears, holes, moisture, water spots, etc., may not be used.
Any package where the external or internal indicators or integrators have not turned the appropriate color may not be used.
Sterile packs and trays should be opened immediately before use. It is NOT acceptable to open and leave or cover instruments.
Sterile instruments are generally handled with sterile gloves or sterile forceps, and a sterile field must be established.
Pitfalls often observed in desktop sterilizer processing:
Failure to thoroughly clean instruments before sterilization
Use of sterilizers that do not have printouts showing parameters were met
Improper packaging: sharp points puncturing peel packs, hinged instruments autoclaved in the closed position instead of open, pack too large or too small for the item
No documentation of preventive maintenance of the autoclave
Door gaskets not intact
No Biological Indicators (spore tests) being used or used incorrectly
Instruments wrapped AFTER sterilization
Instruments sterilized unwrapped and placed in unsterile "boats"
Use of antiseptics (formulated for use on skin) to disinfect instruments
Use of dishwashers to "process" instruments
No sterilization logs, no BI results logs
Reprocessing of items labeled "Single Patient Use"
References:
CDC Guideline for Disinfection and Sterilization in Healthcare Facili­ties, 2008.
Read more from APIC:
Environmental Cleaning and Disinfection: What Infection Preventionists Need to Know