Military Hepatitis History
First known existence of the Hepatitis C virus
Date of Birth- WWII- discovered by LB Seeff while investigating stored military blood samples in 1977. Samples examined were from the 1942- 1944 outbreak of Hepatitis among troops that received
yellow-fever vaccine stabilized with human blood
Edwin Cohn, John Oncley, and colleagues at Harvard University isolated the gammaglobulin
fraction of serum in 1944, under contract to the U.S. Navy. Their methods 6 and 9,
featuring a cold-ethanol fractionation process, yielded immune globulin for intramuscular
administration (IGIM, "gamma globulin"). Joseph Stokes, Jr., and John Neefe reported the utility of IGIM in reducing the incidence of hepatitis A in 1945. Clinicians primarily used this drug to prevent or mitigate measles, mumps, hepatitis A, and hepatitis B. (1, 2, 3, 6, 7, 9, 10, 46, 52-57) IGIM prevented post-transfusion hepatitis in battle casualties, if given promptly. (58) IGIM was routinely given to troops assigned to Korea or Vietnam in the 1960s. (9, 57, 59-62)
Korea & Vietnam
The Hepatitis epidemic of 1942 caused by use of batches of yellow fever vaccine contaminated with hepatitis virus, coupled with the eruption of 200,000 cases of viral hepatitis between 1942 and 1945, identified the disease as a matter of prime importance to our Armed Forces during World War II (MD-IM3, p. 332). It became evident during these conflicts that effective methods to treat or prevent hepatitis in soldiers were urgently required.

http://history.amedd.army.mil/booksdocs/vietnam/GenMedVN/ch18.html
May 01, 2007, 05:25:02 pm
Chapter 18 Hepatitis Page 431
J
oe A. Dean, M.D., and Brigadier General Andre J. Ognibene, MC, USA
VIETNAM EXPERIENCE
Organized study of the large numbers of troops afflicted with hepatitis was not undertaken in Vietnam; attention was focused on prevention and therapy. As early as the 1940's, Stokes and Neefe (1945) reported that epidemic icteric hepatitis could be either prevented or attenuated by the parenteral administration of human serum gamma globulin. In 1964, a program designed to protect all military personnel stationed in Asia against hepatitis was instituted.
A 16-percent solution of human serum gamma globulin in a dose of 0.05 ml/lb was used.
The gamma globulin was prepared from blood donated in the United States. A significant decrease in the prevalence of hepatitis during that year as compared to the previous year was seen in preliminary observations in both Korea and Vietnam. However, close examination of monthly hepatitis rates revealed that the decrease had begun 4 months before the gamma globulin prophylaxis program was initiated. Thus it was impossible to determine whether
--------------------------------------------------------------------------------
432
the incidence of icteric hepatitis in American troops hospitalized in Southeast Asia was significantly affected by the administration of gamma globulin from the United States (Conrad 1972).
[Update: Process used to make gamma globulin didn't work...1999-Safety and availability of immunoglobulin ...potentially transmissible agents Process used to make human serum gamma globulin failed to rid serum gamma globulin of blood borne pathogens... like hepatitis C. Read]
With the increasing involvement in Vietnam after 1965, national stockpiles of gamma globulin were significantly depleted and a reassessment of the prophylactic program was necessary. The dose of gamma globulin administered to soldiers was reduced to 5 ml of a 16-percent solution after arrival overseas, with a second injection 5 months later (DA Circ). It was decided, in 1966, that only persons under high risk of exposure to infectious hepatitis would receive the inoculations of gamma globulin. A continuing incidence greater than five cases per 1,000 per year in particular units was suggested as a guideline for this high risk group.

No significant increases in the incidence of hepatitis during the next year were associated with the decreased utilization and dosage of gamma globulin. In Vietnam, the case rates for viral hepatitis ranged between 4 and 10 per 1,000 troops per annum (HOA). A systematic study of the policy of prophylactic gamma globulin administration in high risk patients was never accomplished in Vietnam.


However, a large body of data was available from the Korean era (Conrad 1969). Conrad (1972) did a study of all soldiers arriving in Korea through a single airport. Between May 1967 and August 1969, 107,803 troops were given, upon arrival, either a 10-ml injection containing 2 ml, 5 ml, or 10 ml of a 16-percent human serum gamma globulin or a 10-ml albumin-sucrose-potassium glutamate solution. A second injection of the same material was given to 65 percent of these soldiers 5 to 7 months later. Soldiers having symptoms or physical findings of hepatitis were hospitalized and examined. A liver biopsy specimen was obtained fom 82 percent of the patients. Results showed 467 documented cases of icteric viral hepatitis in the subjects studied. The calculated incidence was 5.67 cases per 1,000 among the control subjects, who received the albumin, while among soldiers given various amounts of gamma globulin it was 4.04 (2 ml group), 3.39 (10 ml group), and 2.90 (5 ml group) cases per 1,000. Significant protection was provided to those receiving 2 ml of gamma globulin but slightly less than that which was observed with 5 ml. The larger dose of 10 ml did not produce a further reduction in the incidence of viral hepatitis.

In addition, there was no significant difference between the incidence of other infectious diseases in the gamma globulin-protected group and in the control group. Conrad also compared the hospital records of patients who received the 5- or 10-ml dose of gamma globulin with those of patients injected with placebo, to determine whether gamma globulin affected the severity of the illness. Again, no significant differences appeared between the groups. Since almost none of the patients studied had had blood transfusions, it was believed that most were infected orally. The availability of data showing minimal differences between treated and untreated groups in mass prophylaxis reinforced the policy in Vietnam of providing only 2 ml of gamma globulin to individuals in whose units a significant epidemic exposure was manifest. There is no evidence that this policy had any effect on the incidence or severity of disease. [Update: 1999, Sterilants and Disinfectants Hepatitis C Survives Treatment with Commercial Sterilants and Disinfectants Applied and Environmental Microbiology, p. 4255-4260, Vol. 65, No. 90099-2240/99/$04.00+0] Read

--------------------------------------------------------------------------------
433
As the number of troops, and consequently the number of cases of hepatitis, increased and the necessity for air evacuation of these patients from Vietnam became apparent, the prolonged period of treatment and hospitalization not only caused a loss of duty time but also produced a logistical problem of evacuation and replacement. The opening of the 6th Convalescent Center at Cam Ranh Bay, Vietnam, on 16 May 1966, provided a way station to which hepatitis patients could be evacuated for convalescence. However, the prolonged recovery phase was still a major factor contributing to the number of man-days lost to combat units.

In examining the problem of treating hundreds of patients with infectious hepatitis at the 6th Convalescent Center, Repsher and Freebern (1969) were impressed by the benignity of the clinical course in most of the patients, the occur rence of relapses despite adherence to a bed rest regimen, and the uneventful clinical course of patients who engaged in physical activity contrary to advice. Based on these observations, they performed a pilot study on the effect of vigorous reconditioning on patients whose liver function tests had not completely returned to normal values. The effect of exercise on recovery from viral hepatitis had been reviewed earlier by Chalmers et al. (1955) and Nefzger and Chalmers (1963), whose extensive studies led to the conclusion that patients allowed ad libitum activity improved just as rapidly as those kept on strict bed rest. In addition, patients who returned to active physical rehabilitation as soon as the results of their liver function tests were relatively normal were found to have an uncomplicated convalescence similar to that of patients returned to duty much more gradually. Nelson and coworkers (1954) had reexamined, 2 to 3 years after onset of disease, patients who had had ad libitum exercise. Their studies included hepatic biopsies in 40 of the 80 patients, all of which showed no evidence of residual liver disease. Furthermore, Repsher and Freebern's review of existing literature indicated an absence of controlled or prospective studies demonstrating any benefit from the traditional enforced bed rest regimen.

Repsher and Freebern (1969) then undertook a prospective study of 398 American servicemen at the 6th Convalescent Center. Inclusion in the study required elevations of serum bilirubin concentration and SGOT. Patients were examined to preclude the presence of malaria, infectious mononucleosis, pneumonia, or other illnesses. They were required to have been asymptomatic with return of appetite for less than 5 days despite the persistence of abnormal liver function. Evidence of previous hepatitis or history of blood transfusion in the preceding year excluded patients from the study. Patients were divided randomly into rest and exercise groups. The rest group's activity was restricted to a 100-yard walk to the messhall and a walk to the theater or post exchange; they were otherwise confined to the ward. The exercise group participated in a 1-hour session of calisthenics 6 mornings a week, including a 1-mile run and, for 4 afternoons a week, a 2-hour work detail filling sandbags, painting buildings, and constructing bunkers. This group also participated in supervised athletics including softball, swimming, volleyball, and basketball. During the period of study, all groups were under the direct observation of the assigned physicians.

--------------------------------------------------------------------------------
434
Comparison of these groups showed no difference in duration of illness. In one-third of the cases, the SGOT was still elevated when the serum bilirubin had returned to normal, a situation no more frequent in the exercise group than in the rest group. While recovery time was unchanged in the two groups, the time to return to duty was shorter for the exercise group. The exercise group was shown to be fit for return to combat duty immediately on completion of hospitalization. The rest group, however, required conditioning and observation before discharge and appropriate disposition could be made. As a result of this study, individuals recovered from hepatitis were returned to combat duty earlier than had been possible in the past. Repsher and Freebern cautioned against making generalizations about infectious hepatitis in all adults from studies of the disease in this military population of otherwise healthy young men. Furthermore, the origin of the disease may differ in different parts of the world. They also warned against applying their findings to Type B hepatitis, inasmuch as presumably their cases were caused by Type A virus.

The studies of Krugman, Ward, and Giles (1962) indicated that in most cases virus is excreted from about 16 days before icterus to about 8 days after its appearance. Based on this information, no attempt was made to separate the exer cise group from the other patients at the 6th Convalescent Center. Most patients had been hospitalized primarily at an evacuation or field hospital before transfer to the convalescent center, with an average of 8 days' delay before arrival there. Normal hygiene was maintained but isolation procedures for hepatitis patients were not practiced. They shared common dining facilities with the staff and with other patients. During the 6 months of the study, none of the patient contacts developed hepatitis; only one case was identified in a staff member in the year that followed, but it could be attributed to eating in a local village. Thus, this study was responsible for simplifying hospital care for hepatitis patients in addition to significantly reducing combat man-days lost. Returning the individual to his parent unit reduced the need for out-of-country evacuation and replacement from the continental United States.

Table 81 lists the number of cases of hepatitis, by month, in Vietnam for 1965-72 and the numbers of noneffective days for 1965-70. While the number of cases per year remained fairly constant, the noneffective days decreased by 65,986 between 1968 and 1970. The average time lost from duty per individual thus decreased from 35.7 days to 18.6 days during that period.

While an exercise program for the patient with uncomplicated hepatitis was shown to be appropriate in a combat theater, considerable concern arose regarding those patients who might have chronic active hepatitis. Studies by Anand, Tamburo, and Leevy (1971) had shown some detrimental effect of exercise on hepatic function in patients with chronic active hepatitis. At the 6th Convalescent Center, Jolson and Blailock (1970) studied 26 patients with a clinical diagnosis of viral hepatitis, randomly selected for aspiration liver biopsy by the Menghini technique. Six of these patients were noted to have some increase in portal collagen and minimal fibrous interconnecting bridging. Three of the six had evidence of focal, piecemeal necrosis at the limiting plate compatible with chronic active hepatitis. Followup of these three patients was obtained with

--------------------------------------------------------------------------------
435
TABLE 81.-New cases of hepatitis, by month, among active-duty Army personnel in Vietnam, 1965-72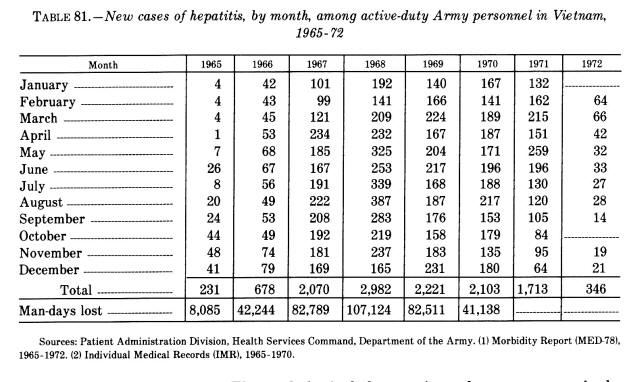 biopsies 30 to 90 days later. The pathological changes in each case progressively decreased in severity as fibrous interportal bands disappeared. Results were inconclusive, though they suggested that additional studies on larger numbers of patients might be considered.

The success of the 6th Convalescent Center's programs in returning hepatitis patients to duty resulted in publication of an official fact sheet on management and evacuation policy by Col. Philip J. Noel, Jr., MC, USARV (U.S. Army, Vietnam) surgeon (1970). The text of the fact sheet follows:

The projected possibility of a shortage of convalescent beds has not materialized. Therefore, the following management practices for viral hepatitis patients are being established.

All patients with viral hepatitis will be admitted to an acute treatment facility. When subjective symptomatology improves, the patient will be transferred to the 6th Convalescent Center.

Patients contracting viral hepatitis with over ten months in-country will be evacuated directly from the acute treatment facility to CONUS. Their clinical status should be stable prior to disposition.

Those patients transferred to the 6th Convalescent Center will undergo a program of treatment and graded physical exercise and reconditioning. This program will allow most of the affected individuals to be returned to full duty. Those patients whose clinical states do not warrant return to full duty within the limits of the established evacuation policies will be returned to CONUS.

The important point is the requirement for a physical activity program. However, with American withdrawal and the increase in hepatitis related to drug abuse, (definitive conclusions about the long-term followup of patients treated with daily exercise could not be reached. Many questions remain for future study in large troop populations with hepatitis, especially if therapy continues to include early ambulation, exercise, and early return to duty.

It was indeed fortunate that the major complications of hepatitis were infrequently seen in Vietnam. Although a limited number of patients developed fulminant hepatitis, as a general rule most patients had uncomplicated

--------------------------------------------------------------------------------

436
recoveries without significant sequelae. Problems with hepatitis in drug abusers will be discussed in volume III of this series on internal medicine in Vietnam.

Following the discovery of hepatitis B antigen, viral hepatitis could be divided into two major groups based on the antigen's presence or absence. To determine the importance of HBS Ag positive hepatitis in Vietnam, Neumann and Benenson (1974) studied patients admitted to four U.S. military hospitals with a diagnosis of acute viral hepatitis. From August to December 1970, 175 American servicemen with acute viral hepatitis were studied and information was gathered on possible exposure to other persons with hepatitis and other epidemiological variables. HBS Ag was detected in the serum of 71 of these soldiers. There appeared to be no relationship between the presence of the antigen and race, sex, location, eating habits, drug use, or contact with other hepatitis cases. The signs and symptoms of disease among all patients are noted in table 82.

The epidemiology of Type B hepatitis was studied only late in the conflict and includes Thai and Cambodian population samples as well as American. Table 83 demonstrates the prevalence of antigenic markers of hepatitis B subgroups in varied populations. The antigenic subtypes of Americans stationed in Southeast Asia were unlike those of the indigenous populations and those of Americans in the United States (Snitbhan et al. 1975). The adr subtype, present in 85 percent of asymptomatic Asians, is noted in only 2.5 percent of Americans in the United States. However, it is found in 40 percent of American asymptomatic carriers in Asia. Such differences indicate that Americans acquire HBS Ag of subtype adr in Asia. Subtypes are region-dependent and not solely related to national origin. The presence of adr in Americans with hepatitis suggests transmission from the local population and the frequency of ayw confirms passage of infection from one American to another. The future study of subtypes can offer an effective epidemiological tool in review of large populations.

Epidemics related to Type A hepatitis were documented in units in Vietnam (Kunkel 1967). An episode of 71 cases of viral hepatitis among 1st Infantry Division personnel occurred between 3 April and 1 June 1967, while they were engaged in Operation JUNCTION CITY in War Zone C near the Cambodian border. All of the afflicted individuals had been in the field during the estimated time of the exposure; 92 percent were found to have been in one of the villages in the operations area, and 94 percent had been assigned duties at a single bridge site. Further investigation incriminated nonpotable ice supplies. Waterborne Type A hepatitis was well documented as far back as the 1930's and 1940's; however, it did not become part of everyday epidemiological consideration until the Delhi epidemic of 1955-56, which involved 29,300 cases (Mosley 1972). Scattered reports of epidemic outbreaks most likely related to iceborne or waterborne routes were characteristic of the Vietnam experience.

An analysis of hepatitis rates (chart 27) for the Vietnam war reflects three major phases. The first years, when activities were limited, were characterized by a low incidence rate. This was soon followed by rising rates as more troops became exposed to the environment and as established principles of hygiene and discipline were less effectively enforced. In 1968-69, however, personal hygiene

--------------------------------------------------------------------------------

437
TABLE 82.-Clinical findings among 175 American servicemen in Vietnam with acute viral hepatitis, August-December 1970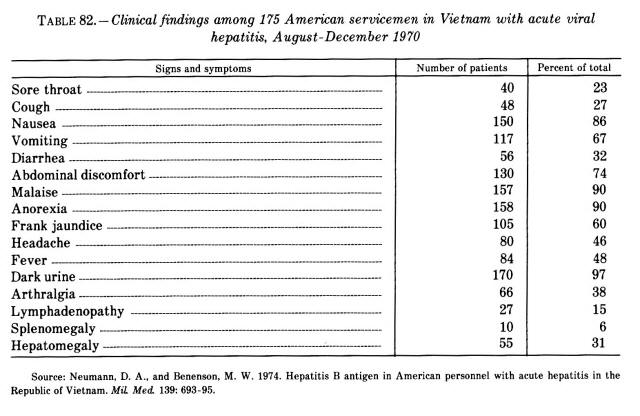 CHART 27.-Hepatitis incidence rates during the Vietnam war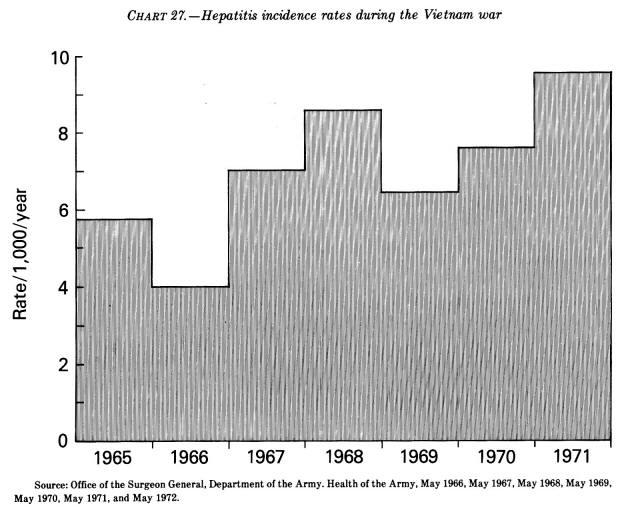 --------------------------------------------------------------------------------
438
was emphasized and unit awareness was aroused. This was followed by a drop in the incidence rate. However, as the problem of drug abuse developed, rates again rose. Studies at that time (Neumann and Benenson 1974) revealed 41 percent of the patients were afflicted with type B hepatitis; this was the first time such data were available in Vietnam and reflected a shift in the epidemiology of the disease. With U.S. withdrawal, further study was aborted.

Related link:
Blood, Plasma, and Related Programs in the Korean War A plasma program was also developed which later had to be discontinued because of the risk of serum hepatitis associated with plasma infusions
Human Serum Gamma Globulin A 16-percent solution of human serum gamma globulin in a dose of 0.05 ml/lb was used. The gamma globulin was prepared from blood donated in the United States prisons and processed in Canada.
1969 New York Times- many people sickened and some died in an extended series of drug tests and blood plasma experiments
1990

Follow-up More Than 40 Years Later

Hepatitis C Epidemiology in Military and Veteran Populations: Proceedings of the Second Biennial Conference, March 7, 1990 (1991)

Institute of Medicine- Yellow Fever Vaccine-Associated Hepatitis Epidemic During World War II:

1995 Philadelphia Inquirer "On the Trail of Tainted Blood"- provides an in-depth report of our Governments knowledge of Hepatitis transmission.... Experiments with human volunteers from the military, prisons and state hospitals were abandoned...plasma-induced hepatitis
1999, Sterilants and Disinfectants Hepatitis C Survives Treatment with Commercial Sterilants and Disinfectants Applied and Environmental Microbiology, p. 4255-4260, Vol. 65, No. 90099-2240/99/$04.00+0]
1997 DoD Jetgun Report- Vaccines in the Military Report- Vaccines in the Military- Department of Defense- Wide review of Vaccine Policies and Procedures...Jet injector nozzles were frequently contaminated with blood