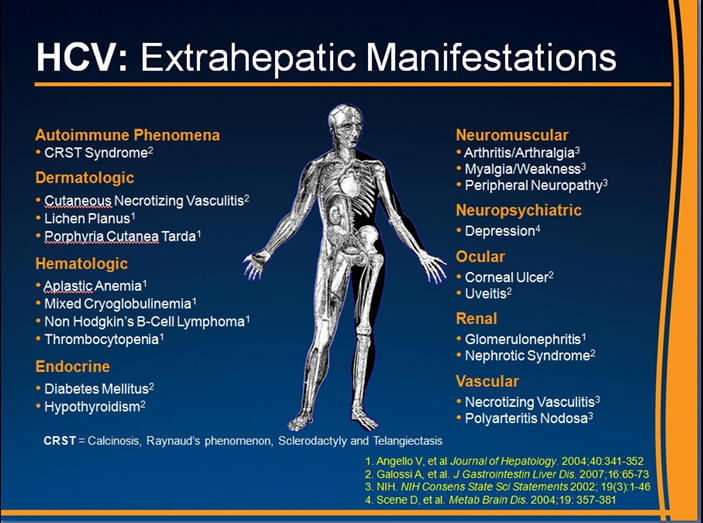 Document medical records for persistent issues of depression and/or fatigue that continue post cure. VA is reducing the percent awarded for Service Connection if the Vet does treatment and clears the hepatitis C virus. Study explains how how depression and fatigue are paired.
Mitochondria and Mood: Mitochondrial Dysfunction as a Key Player in the Manifestation of Depression
Josh Allen1, e.t. al Raquel Romay-Tallon1, Kyle J. Brymer2, Hector J. Caruncho1 and Lisa E. Kalynchuk1*

Conclusion
The specific biological mechanisms underlying major depression have yet to be elucidated. This review highlights the potential importance of mitochondrial function in depression.
https://www.frontiersin.org/articles/10.3389/fnins.2018.00386/full
More: Monoaminergic neurotransmission is altered in hepatitis C virus infected patients with chronic fatigue and cognitive impairment

K Weissenborn1, J C Ennen1, M Bokemeyer2, B Ahl1, U Wurster1, H Tillmann3, C Trebst1, H Hecker4, G Berding5
Conclusion: Our findings indicate alteration of serotonergic and dopaminergic neurotransmission in HCV infected patients with chronic fatigue and cognitive impairment.
https://gut.bmj.com/content/55/11/1624.short
High Comorbidity Burden of the U.S. Hepatitis C Virus-Infected Population Chronic hepatitis C (HCV) disease can be complicated with comorbid conditions that may impact treatment eligibility and outcomes.
The aim of the study by Louie, et al. (2012) was to systematically review comorbidities and symptoms in an HCV-infected population, specifically assessing comorbidities associated with HCV antiviral treatment and disease, as well as comparing comorbidities between an HCV-infected and uninfected control population.

This was a retrospective cohort study within a United States medical claims database among patients with chronic HCV designed to estimate the two-year period prevalence of comorbidities. Patients with two HCV diagnosis codes, 24 months of continuous health insurance coverage, and full medical and pharmacy benefits were included.
Among a chronic HCV cohort of 7,411 patients, at least one comorbid condition was seen in almost all patients (>99%) during the study period. HCV-infected patients reported almost double the number of comorbidities compared to uninfected controls. Of the 25 most common comorbidities, the majority of the comorbidities (n = 22) were known to be associated with either HCV antiviral treatment or disease. The five most frequent comorbidities were liver disease [other] (37.5%), connective tissue disease (37.5%), abdominal pain (36.1%), upper respiratory infections (35.6%), and lower respiratory disease (33.7%). Three notable comorbidities not known to be associated with antiviral treatment or disease were benign neoplasms (24.3%), genitourinary symptoms & ill-defined conditions (14.8%), and viral infections (13.8%).
The researchers concluded that this U.S. medically insured HCV population is highly comorbid. Effective strategies to manage these comorbidities are necessary to allow wider access to HCV treatment and reduce the future burden of HCV disease and its manifestations. Their research was published in BMC Infectious Diseases.
Reference: Louie KS, et al. The high comorbidity burden of the hepatitis C virus infected population in the United States. BMC Infectious Diseases 2012, 12:86 doi:10.1186/1471-2334-12-86